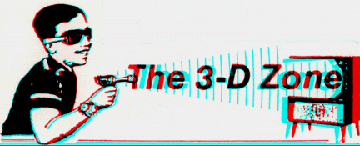 Welcome to the 3-D Zone, your 3-D comics
and 3-D movies resource!
Ray Zone is one of the leading champions of 3-D in the world. He has been called the King of 3-D Comics. Before you scroll down to Ray's 3-D Libraries below, you can first read about his work on the Tom Jane 3D feature film The Dark Country or Brijes 3D, the animated 3-D feature film that Ray produced in Mexico. Click on Talkin' About 3-D Comics to see an anaglyph 3D movie of Tom Jane interviewing Ray about making 3-D comics or read about the books Ray Zone has written about 3-D Movies. And, finally, you can check out Whatever Happened to Ro-Man? This is Ray's revealing new 3D film, an interview with Ro-Man, the famous 3-D movie star of the 1953 "Golden Turkey" Robot Monster.
SHOOTING 3D in THE DARK COUNTRY
BRIJES 3D: A FIRST FOR MEXICAN CINEMA
TALKIN' ABOUT 3-D COMICS
RAY ZONE BOOKS ABOUT 3-D MOVIES
WHATEVER HAPPENED TO RO-MAN?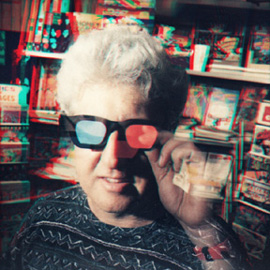 Ray '3-D' Zone
For more than 25 years, Ray has been converting flat art to 3-D for every conceivable application. Click on Ray's image above to read an extensive two-part interview about how he got his start in the professional world of 3-D. Here are also three additional articles about Ray's work. Ray's Curriculum Vitae is a downloadable PDF.
I, POP CULTURIST
ENTERING THE 3-D ZONE AGAIN
EXPANDING THE 3-D UNIVERSE
CURRICULUM VITAE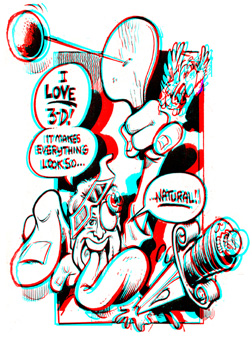 Ray's 3-D Comics
Ray Zone has published or produced the 3-D separations for over a hundred and thirty 3-D comic books. Click on "Ask the Pros" shown below to learn how Ray makes 3-D comics. You can also read about some of Ray's "2007 3-D Comics." In "Bicameral Perceptions" and "Glimmerings" Ray reveals some surprising, artistic facts about 3-D comics. Or go to "The Ray Zone 3-D Comics Checklist" to see a complete index of the 3-D comic books Ray has produced.
ASK THE PROS
RAY'S 2007 3-D COMICS
BICAMERAL PERCEPTIONS
GLIMMERINGS: A Brief History of Retinal Rivalry
THE RAY ZONE 3-D COMICS CHECKLIST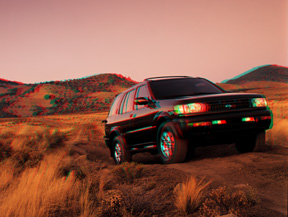 3-D Portfolio
Since 1983 Ray Zone has also produced 3-D separations, 3-D printing, stereo photography and 3-D glasses for products and services that are quite diverse. These range from pesticides and healthcare, to 3-D murals, coloring books and 3-D underwear. The client list includes National Geographic, Warner Brothers, Walt Disney Company, A&M Records, Saban Entertainment, Galoob Toys, and many others. Decoder or hidden image effects as well as lenticular (autostereoscopic) 3-D displays, stereo photography, 3-D video, slide shows and multimedia are additional services and products that the 3-D Zone offers. Here are just a few of the 3-D projects completed by The 3-D Zone:
TOOL 3D CD
KID'S CUISINE
SUPER EYE ADVENTURE BOOKS
MONDO DRIVE-IN
ARACHNID INC.
INCREDIBLE HULK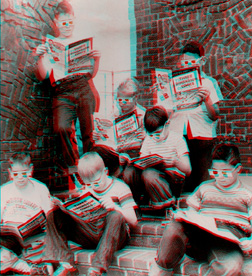 1950's 3-D Comic Books
Just like these kids, it was a 3-D comic book that ignited Ray Zone's interest in 3-D. That was way back in 1953, when he was six years old. The comic book was Three Dimension Comics with Mighty Mouse. Here are several of Ray's articles about the 3-D comic books of the 1950's.
ANAGLYPHS
JOE KUBERT REMINISCES
LEONARD MAURER: 3-D COMICS PIONEER
3-D COMICS SKULLDUGGERY
3-D COMICS HISTORY EXHIBIT
1950's 3-D COMIC CHECKLIST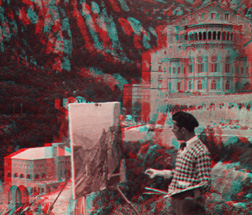 3-D as a Fine Art
Over the years Ray Zone has written numerous articles for a variety of publications on 3-D and its use in the Fine Arts. Ray is actively curating art shows of stereography and promoting it as a fine art for exhibition in museums and galleries. Below are a few of Ray's articles about 3-D as a fine art.
CYCLOPEAN IMAGES
MEDIA PARADOXES
IMMATERIAL PRESENCES
POLYCHROMATIC ANAGLYPHS
New!
OTHER ART WRITINGS
New!
Thanks for visiting The 3-D Zone. Feel free to email Ray Zone at any time. Your comments are welcome.
E-mail: r3dzone@earthlink.net