THE RAY ZONE 3-D COMICS CHECKLIST
3-D VIDEO CORPORATION
BATTLE FOR A THREE DIMENSIONAL WORLD, 1982 (16 pages)--Story by Ray Zone, Art by Jack Kirby
PACIFIC COMICS
THREE DIMENSIONAL ALIEN WORLDS #1, July 1984--Art by Dave Stevens, Bill Wray, John Bolton, Art Adams, Rand Holmes
AARDVARK-VANAHEIM
AV IN 3D, #1, Dec. 1984--Art by Terry Beatty, Valentino, Bill Loebs, Bob Burden, Dave Sim, Arn Saba
BLACKTHORNE PUBLISHING
SHEENA 3-D SPECIAL #1, May 1985 (3-D #1)--Reprints 3-D Sheena The Jungle Queen, Dave Stevens cover art
MERLINREALM IN 3-D #1, October 1985 (#2)
3-D HEROES #1, February 1986 (#3)
GOLDYN IN 3-D #1, June 1986 (#4)
BIZARRE 3-D ZONE #1, July 1986 (#5)--Art by Spain, Scott Shaw!, Bill Stout, Robt. Wms, Terry Stroud, John Pound
SALIMBA 3-D #1, August 1986 (#6)
SALIMBA 3-D #2. September 1986 (#9)
RENEGADE PRESS
MS. TREE 3-D #1, August, 1985
NORMALMAN 3-D ANNUAL #l, 1986
MS. TREE'S 1950's THREE-DIMENSIONAL CRIME #1, July 1987
3-D WIMMEN'S COMICS #12, November 1987
ECLIPSE COMICS
THREE-DIMENSIONAL SEDUCTION OF THE INNOCENT #1, October 1985
THREE-DIMENSIONAL SEDUCTION OF THE INNOCENT #2, April 1986
MIRACLEMAN 3-D #1, December 1985
THREE-DIMENSIONAL DNAgents #1, January 1986
MR. MONSTER'S THREE DIMENSIONAL HIGH-OCTANE HORROR #1, May 1986--Michael T. Gilbert art
DOC STEARN...MR. MONSTER #10, June 1987--"6-D'' process has 8 pages of 3-D in a 4-color book
3-D ALIEN TERROR #1, June 1986
ADOLESCENT RADIOACTIVE BLACK BELT HAMSTERS IN 3-D #1, July 1986
ADOLESCENT RADIOACTIVE BLACK BELT HAMSTERS IN 3-D #2, September 1986
ADOLESCENT RADIOACTIVE BLACK BELT HAMSTERS IN 3-D #3, November 1986
ADOLESCENT RADIOACTIVE BLACK BELT HAMSTERS IN 3-D #4, December 1986
3-D LASER ERASER AND PRESSBUTTON #1, August 1986
3-D THREE STOOGES #2, November 1986--Reprints Three Stooges #3 by St. John, One page of 3-D by Ray Zone
3-D THREE STOOGES #3, October 1987--Reprints Three Stooges #I by Jubilee
SCOUT 3-D #16, February 1987
THE NEW WAVE VS. THE VOLUNTEERS 3-D #1, April 1987
THE NEW WAVE VS. THE VOLUNTEERS 3-D #2, June 1987
THREE-DIMENSIONAL DESTROY!! #1, March 1987
LARS OF MARS 3-D #1, April 1987
CAPTAIN EO 3-D, July 1987 (Regular Size), August 1987 (Oversize issue)
KITCHEN SINK PRESS
WILL EISNER'S 3-D CLASSICS FEATURING THE SPIRIT #1, December 1985
STEVE CANYON 3-D #1, June 1986
SIRIUS COMICS
AGAINST BLACKSHARD 3-D #1, 1986
COMICO THE COMIC COMPANY
ROBOTECH IN 3-D #1, August 1987
SEMIC PRESS
SVENSKA MAD (Magazine), 1989, (Swedish MAD)--16 pages of Bill Elder art in 3-D
THE PHANTOM, November,1989--16 pages of Lee Falk art in 3-D
WELSH PUBLISHING
SIMPSONS ILLUSTRATED 1992 ANNUAL (Magazine)--Steve Vance art
D.C. COMICS
BATMAN 3-D (Graphic Novel), 1990--96 pages, John Byrne art
SUPERMAN RED/SUPERMAN BLUE, February 1998--3-D Cover Edition
LEGENDS OF THE DC UNIVERSE 3-D GALLERY # 1, December 1998
SUPERMAN 3-D # 1, December 1998
GREEN LANTERN 3-D # 1, December 1998
BATMAN/SCARECROW 3-D # 1, December 1998
ACTION COMICS #851 (3-D Variant) August 2007--Adam Kubert art
LEAGUE OF EXTRAORDINARY GENTLEMEN: Black Dossier (Graphic Novel) November 2008 17 pages in 3-D --Kevin O'Neill art
FINAL CRISIS: SUPERMAN BEYOND #1, October 2008 13 pages in 3-D -- Doug Mahnke art
FINAL CRISIS: SUPERMAN BEYOND #2, March 2009 13 pages in 3-D -- Doug Mahnke art
WALT DISNEY PUBLISHING
THE ROCKETEER 3-D COMIC, 1991--48 pages, Neal Adams art
DISNEY'S COMICS IN 3-D #1, 1992--48 pages, Carl Barks, Don Rosa, Gottfredson art
ROGER RABBIT IN 3-D #1, 1992
DISNEY ADVENTURES (Magazine), November 1992--8 pages of 3-D comics
DISNEY ADVENTURES (Magazine), November 1993--8 pages of 3-D comics
DISNEY ADVENTURES (Magazine), July 1994--8 pages of 3-D comics
NICKELODEON MAGAZINE
SPECIAL 3-D ISSUE -- March 2005 -- 9 pages, Kim Deitch, Michael Dougan, Sam Henderson, Ross MacDonald art
SPECIAL 3-D ISSUE -- March 2006 --13 pages, James Kochalka, Sam Henderson, Mark Martin, Jef Czeka, Michael Kupperman art
SPECIAL 3-D ISSUE -- March 2008 --9 pages, R. Sikoryak, Mark Martin, Jef Czeka, Jacob Chabot art, Plus 8-page Sponge Bob 3-D mini-comic, Gregg Schigiel art
SPECIAL 3-D ISSUE -- June 2009 --11 pages, Brian Ralph, Jay Lender, Martin Cendreda, Jef Czeka, Jen Sorenson, Terry LaBan, Michael Kupperman, Marc Hemple, Laura Park art
LAUFER MEDIA
TIGER BEAT; 3-D ISSUE, Vol. 7, No. 3, April 2009 -- 3 cartoons in 3-D
IDW PUBLISHING
TRANSFORMERS SPOTLIGHT: OPTIMUS PRIME, 3-D Edition, November 2008 -- 22 pages of 3-D -- Don Figueroa art
CLIVE BARKER'S SEDUTH, 3-D Edition, October 2009 -- 24 pages of 3-D -- Gabriel Rodriguez art
SOLEIL PRODUCTIONS
LES BLONDES EN 3D, August 2010 --36 pages of 3-D-- Gaby & Dzack
INNOVATION
FREDDY'S DEAD; THE FINAL NIGHTMARE, Vol. 1, No. 3-D, 1992 issue--14 pages of 3-D
THE EDGE GROUP
BEHOLD 3-D #1, 1996--Nestor Redondo art
IMAGE COMICS
WILDC.A.T.S #1 3-D SPECIAL, August 1997--Jim Lee art
GEN 13/GENERATION X #1 (3-D Edition), August 1997--Art Adams
GEN 13 #1 3-D, September 1997--J. Scott Campbell art
WILDC.A.T.S/X-MEN: THE GOLDEN AGE 3-D #1, September 1997--Travis Charest art
GEN 13 3-D SPECIAL #1, October 1997--Art Adams, Tom McWeeney art
WILDC.A.T.S/X-MEN: THE SILVER AGE, October 1997--Jim Lee art
WILDC.A.T.S/X-MEN: THE MODERN AGE, November 1997--Adam Hughes art
Kurt Busiek's ASTRO CITY 3D SPECIAL #1, December 1997
MAXX #1 3-D, January 1998--Sam Kieth art
GEN 13 3D #1, February 1998--J. Scott Campbell art
MAGE #1 3-D, February 1998--Matt Wagner
WETWORKS #1 3-D SPECIAL, February 1998--Whilce Portacio, Scott Williams art
RAW STUDIOS
(Image Comics)

BAD PLANET #3 (Super-Terror 3D) (14 pages of color 3D) September 2007--James Daly III and Tim Bradstreet art

CLIFFHANGER !

(Wildstorm/DC)

DANGER GIRL 3-D SPECIAL, April 2003 (48 pages of color 3D)--J. Scott Campbell, Alex Garner art

COLONIAL WILLIAMSBURG FOUNDATION

1699: WHEN VIRGINIA WAS THE WILD WEST, 1999--5 pages of color 3-D--Brian Stelfreeze art

TwoMORROWS PUBLISHING

THE JACK KIRBY COLLECTOR, Vol 13, No. 45, Winter 2006 -- 3-D Backcover (Captain 3-D #2 cover art by Jack Kirby)-- plus Jack Kirby Interview by Ray Zone

TIME, INC.

SPORTS ILLUSTRATED KIDS, 3-D Issue, December 2006-January 2007--1 page of Ray Zone 3-D

SPORTS ILLUSTRATED KIDS, 3-D Issue, November 2008-- 4 pages of Ray Zone 3-D

THE 3-D ZONE

DR. JEKYLL & MR. HYDE #1, February,1987--Art by Wood, Reprints A Star Presentation (1950)

THE WEIRD TALES OF BASIL WOLVERTON #2, March 1987

PICTURESCOPE JUNGLE ADVENTURES #3, April 1987--Cover by L.B. Cole, Art by Jay Disbrow

ELECTRIC FEAR #4, May 1987--16 pages of 3-D in 4-color book

KRAZY KAT #5, June 1987--George Herriman art

RATFINK 3-D #6, July 1987

HOLLYWOOD 3-D #7, August 1987--Photo cover in color 3-D

HIGH SEAS 3-D #8, September 1987--Reprints St. John's Daring Adventures

RED MASK 3-D #9, October 1987--Frank Bolle "3-D" Effect Illustration

JET 3-D #10, February 1988--Reprints Jet #2 with art by Bob Powell and Al Williamson

3-D DANSE MACABRE #11, April 1988--Matt Fox art

3-D PRESIDENTS #12, June 1988 (Oversize)--3-D Photos and comics

3-D FLASH GORDON #13, September 1988 (Oversize)--Reprints Sunday strips by Alex Raymond

3-D TYRANOSTAR #14, October 1988--Bill Stout cover

3-DEMENTIA COMICS #15, November 1988--Cover by Harvey Kurtzman, art by Kubert, Maurer, Shaw!, Jim Engel, Bob Foster, Tony Alderson, Davy Francis

3-D SPACE VIXENS #16, December 1988--Stories and art by Dave Stevens and Bruce Jones

3-D HOLLYWOOD (Paperdolls), 1988--8 pages, Trina Robbins art

THRILLING LOVE 3-D #17, 1989--Feldstein, Kamen, Ward, Frazetta art

SPACEHAWK 3-D #18, 1989--Wolverton art

CRACKED CLASSICS #19, 1989--Bill Wray cover, Ward, Ditko, Severin, Davis, Everett

COMMANDER BATTLE AND THE ATOMIC SUB #20, 1989

ARAGONES 3-D (48 page book), 1989--Sergio Aragones art

BETTY PAGE 3-D PICTURE BOOK, 1989--3-D photos

BASEBALL THRILLS 3-D, 1990

3-D SUBSTANCE (#1) 1990--Jack C. Harris, Steve Ditko art

AMAZON ATTACK 3-D, 1990--Howard Chaykin cover

3-D EXOTIC BEAUTIES, 1990--L.B. Cole cover art (new)

BETTY PAGE CAPTURED JUNGLE GIRL 3-D, 1990

TEX BENSON #1, 1990--Chuck Roblin art (backcover in color 3-D)

TEX BENSON #2, 1990--Roblin art (backcover in color 3-D)

BIKINI BATTLE 3-D, 1991--R. Crumb cover art

PEEK-A-BOO 3-D, 1991--Bill Ward cover art

THE DEEP IMAGE, 1991 (40 page 3-D History with16 pages in 3-D)

BETTY PAGE 3-D COMICS, 1991

3-D SUBSTANCE #2, 1991--Ditko Art

DAUGHTERS OF TIME, 1991--Jack C. Harris, K. Schaffenberger and Ditko art

TEX BENSON #3, 1991--C. Roblin art (backcover in color 3-D)

TEX BENSON #4, 1991--C. Roblin art (backcover in color 3-D)

3-D TRUE CRIME, 1992--Michael T. Gilbert cover, Jack Cole art

ZOMBIE 3-D, 1992--Robt. Wms cover, XNO, Pizz art

DRACULA 3-D, 1992--C. Roblin cover art

SURF CRAZED IN 3-D #3, 1992

MONDO 3-D, 1992--Robt. Wms cover, Carol Lay, Clowes, Byron Werner art, 3-D photos

BRAIN-BAT 3-D, 1992--XNO cover and art

DR. FRANKENSTEIN'S HOUSE OF 3-D, 1992--XNO cover/art, Dick Briefer art

ZORI J's 3-D BUBBLE BATH, 1993--Chuck Roblin art

ZORI J's BUBBLE BATH, 1993 (B&W, includes captions)

3-D SPACE ZOMBIES, 1993--XNO cover/art, Merinuk, Kalkhoven

MR. MONSTER'S TRIPLE THREAT 3-D, 1993--Michael T. Gilbert cover, Dave Stevens, Moore, Kitchen, Chadwick art

3-D HEAVY METAL MONSTERS #2, 1993--Scott Jackson, Daerick Gross, Dennis Worden art

FORBIDDEN 3-D, 1993--Ray Zone script, C. Roblin art

FORBIDDEN 3-D, 1993 (2-D Chromascope version)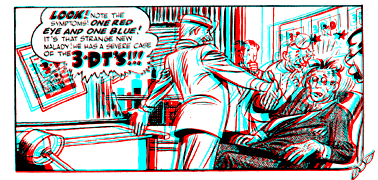 PREMIUM AND PROMOTIONAL 3-D COMICS BY RAY ZONE
HONEYCOMB CEREAL (Post)
Presents The Honeycomb Kid in 3-D Sports Action Posters, 1984--Jack Kirby art
(Set of 3)
Fireball Action!
Go For It!
BMX Fever!
STATS ETC. Presents 3-D ADVENTURE COMICS #1, August 1986 (16 pages)--Steve Vance art
LEATHER GODDESSES OF PHOBOS included with software from INFOCOM (9 pages) 1986 --Art by Rich Howell
MODERN PROPS Presents SANTA IN CRISIS (16 pages), 1987
3-D PRIMAX ADVENTURES (Warner Bros. Television) 1990-- 2 pages, Steve Vance art
ADAPSO Presents TEC TRACER IN 3-D (16 pages), 1990
CONSERVA-CAT COMICS IN 3-D #1 (Southern California Edison Company) 1992--16 pages Bill Stout cover/art
HONEY NUT CHEERIOS
GARFIELD ADVENTURES IN 3-D (8 page rollfold comics) 1993--Jim Davis art
(Set of 3)
THE GREAT SPACE RACE!
THE GREAT SEA RACE!
THE GREAT CARNIVAL RACE!
INCREDIBLE HULK SOUR APPLE GUM (Fleer)
Incredible Hulk 3-D Comic Strips (6 Strips) 1997
3D SUPER HEROES (Sonric's Ice Cream--Mexico)
(12 page color 3D mini-comics) 2003--Various artists
(Set of 2)
Marvel 3D Super Heroes
Justice League 3D Super Heroes (DC)
SPY KIDS 3D: GAME OVER (McDonald's--America/Canada)
(12 page color 3D comics) 2003
(Set of 6)
No. 1 - The Chip that Shook the World!
No. 2 - The Diabolical Doctor Kent!
No. 3 - The Outbreak of Silence!
No. 4 - The Taking of the Presidency
No. 5 - The Demise of Doctor Kent
No. 6 - The Computer Planet
---
To inquire about ordering any of these books email Ray at:
r3dzone@earthlink.net

Back to 3-D ZONE