THREE 2007 3-D COMICS
---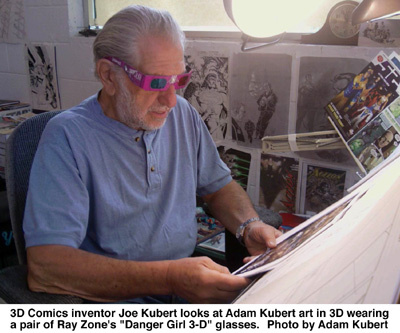 Ray Zone Produces Three New 3-D Comics in 2007
Continuing his 25-year career converting "flat" art to 3D, Ray Zone completed three new 3D comics projects in 2007. The first, Action Comics number 851, published by DC Comics in both 2D and a 3D variant edition, hit comic book stores in North America on July 5, 2007. Selling for $3.99, the 3D edition includes custom "Phantom Vision" 3D glasses bound into the book and manufactured by Zone. The 2D issue sells for $2.99.
Written by Geoff Johns and Richard Donner, director of the 1978 Superman film, Action Comics 851 presents the final installment in the four-part "Last Son" story arc. Art for the issue was created by Adam Kubert in a unique page-layout style ideal for 3D. All recent 3D comics have used "polychromatic anaglyph," full color art in red/blue 3D as their process, a format inaugurated by Zone. The Kubert art, depicting flying shards of glass and non-stop action, was also colored by Dave Stewart in a color palette allowing strong 3D effects. The result is some highly dramatic 3D.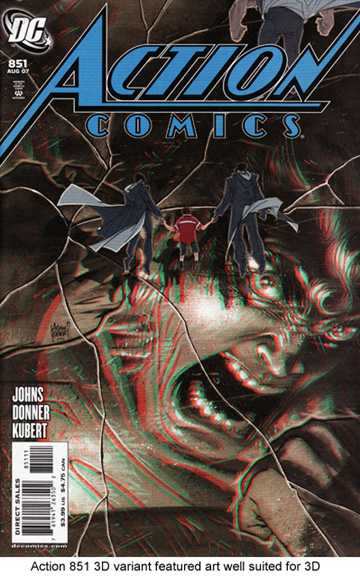 "I just wanted to drop you a direct line and tell you what a STELLAR, AMAZING job you did on the Action Comics pages!" wrote Matt Idelson, DC Editor, in an email to Zone "They look incredible, man!!!! We had some pretty high hopes going in based on your prior work, but this just blew me and Adam away." Adam Kubert also emailed Zone and wrote "Just wanted to say what an unbelievable job I thought you did with the 3-D stuff on Action. It came out better than I imagined... . in fact, our toughest critic gave it an enthusiastic thumbs up!" Attached to his email to Zone, Kubert included a photo of his father Joe Kubert, co-inventor of 3D comics in 1953, wearing 3D glasses and looking at 3D page proofs of Action Comics.
Strong sales of the Action Comics 3D issue took place in the retail market. "Action #851 is doing very well in the 3D version (we ordered 80% of our order 3D, 20% 2D)," wrote Cliff Biggers, comics retailer and publisher of Comic Shop News. "Many of our customers are new enough to comics that they haven't had a chance to sample a 3D book from a mainstream publisher."
The 3D trend continued in August 2007 with release of Bad Planet #3 with 14 pages in "Super Terror 3D" from Raw Studios, distributed by Image Comics. Custom Bad Planet 3D glasses manufactured by Zone were bound into the book. Co-written by Raw Studios publisher Tom Jane and Steve Niles, Bad Planet 3 was penciled by James Daly III and inked by Tim Bradstreet. From the outset, the art for the 3D pages of Bad Planet 3 was designed to be seen in three dimensions. Even the coloring by Grant Goleash and the sound effects and lettering by Jason Hanley were modified so that Zone could create maximum 3D effects.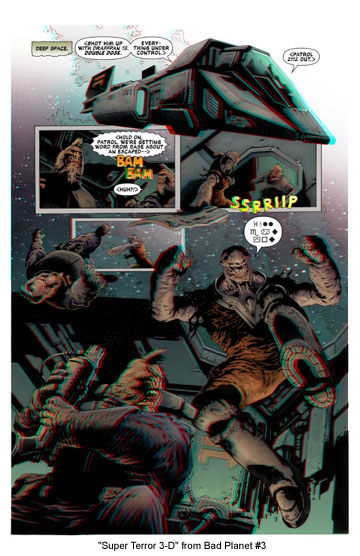 Those efforts paid off. "Well, we had to change our diapers after looking at your absolutely STUNNING pages," wrote Tom Jane in an email to Zone. "These truly are the best 3D pages I've seen! If this don't get peeps reading the book, nothing will, and we are doomed as a species. But I truly believe this book will be around for years to come. It's that good."
Zone also completed full-color stereo conversion work on the last 17 pages of Black Dossier, a 200-page League of Extraordinary Gentlemen graphic novel published in November, 2007 by Wildstorm/DC Comics. Written by Alan Moore and illustrated by Kevin O'Neill, Black Dossier is a towering defense of the imagination with highly detailed art and storytelling that is ideal for 3D treatment. Full-size four-color custom 3D glasses designed by O'Neill and manufactured by Zone were incorporated into Black Dossier when it was published.

"If you're not a discerning comics fan with a taste for the off-beat, you might think you'd need to be a 3D compulsive (are you reading this, Sheldon Aronowitz?) to add Alan Moore and Kevin O'Neill's The League of Extraordinary Gentlemen: The Black Dossier to your collection for the 17 pages of full color anaglyph work by Ray Zone," wrote Joe Pedoto in a review for the New York Stereoscopic Society.
"Briefly, the concept here is that various fictional characters and situations from literature co-exist in the 'real' world; a group of such heroes is brought together by the British government to fight various menaces, similar to contemporary super hero teams like DC's Justice League or Marvel's Avengers.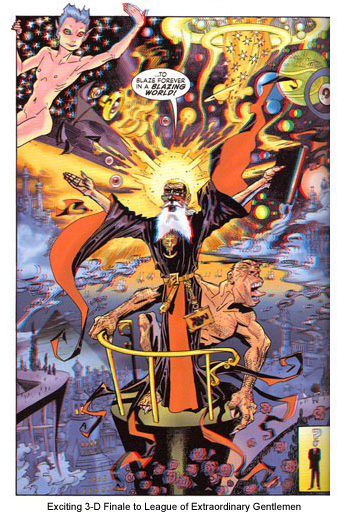 "But even if all that holds no interest for you, I'd still recommend the purchase of this hardcover if you are a fan of 3D comics and/or the patron saint of same, Ray Zone.
"His work here, concluding the present story line in a fabulous 'Blazing World,' is exquisite. Having this section presented in 3D makes perfect sense in terms of the plot and is a spectacular conclusion to the book."

Back to 3-D ZONE