Brijes 3D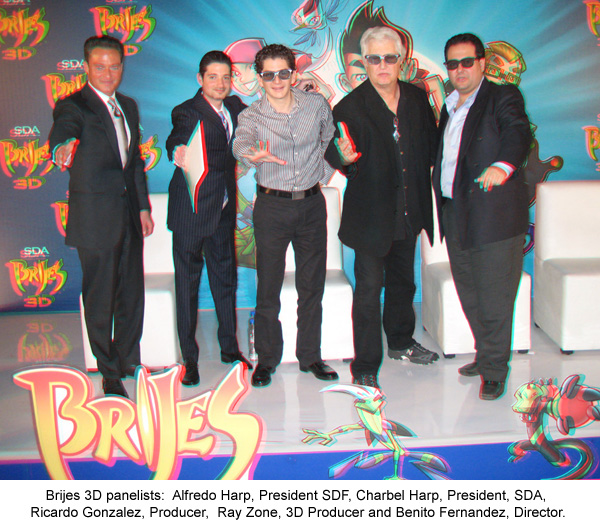 The First Animated Stereoscopic Feature Film in Mexican Cinema
by Ray Zone
In August 2008, I began working as 3D Producer on an animated stereoscopic feature film called Brijes 3D with Ithrax Productions and Santo Domingo Animation (SDA), a motion picture studio based in Mexico City. I had been contacted by Marius Henry Hoyo, VFX Supervisor on the project, after Lenny Lipton at Real D had recommended my services as a stereoscopic consultant. Marius had previously worked with director Benito Fernandez at Ithrax on an animated feature called Sabel which Santo Domingo had picked up for distribution. When SDA President Charbel Harp had the idea to produce Brijes in 3D, I was brought onboard as 3D Producer.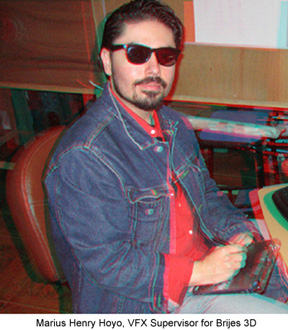 Brijes 3D uses classic cell animation along with a few CGI elements and a number of miniatures incorporated into the 3D art. With story by Producer Ricardo Duprat Gonzalez and script by Luis Antonio Avalos, Brijes tells the story of legendary animal totems which connect with children as they mature on their journey to adulthood. It is based on indigenous tales from the Oaxaca area of Mexico.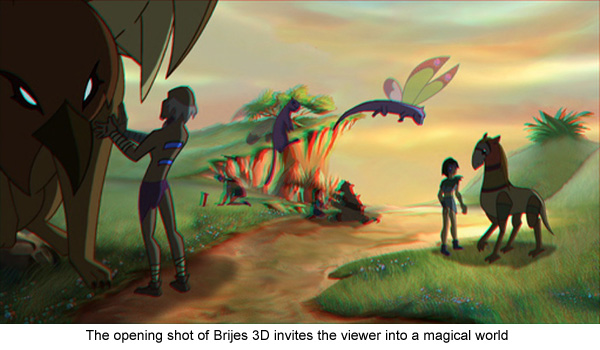 On my first visit to SDA and Ithrax in August, Marius and I set up a stereoscopic workflow to produce separate left and right eye views of the cell animation art. Working with digital fx artists David Castro Ramirez and Osvaldo Vazquez Guido, procedures for pixel-based horizontal shifts of cell art were created for positive and negative parallax values, to place art back in the space behind, as well as in front of, the motion picture screen. Benito's brother, Diego Fernandez, prepared the cell art for the stereoscopic 'finishing' stage.
By January 2009 the 3D for the opening 7-minute prologue of Brijes 3D was complete and SDA decided that they wanted to announce the stereoscopic production to the media in Mexico. It was decided to hold a 3D press screening in Mexico City on February 12 at a Cinepolis Theater equipped with Real D stereoscopic projection. Cinepolis is rolling out more Real D cinemas and is the largest theater chain in Mexico.
After Marius prepared the Digital Cinema Distribution Master (DCDM) for the prologue, Josh Greer, Lenny Lipton and Robert Turner at Real D graciously created the Digital Cinema Package (DCP) from the DCDM. This was used for a quality control 3D screening at the Clarity Theater in Beverly Hills and Ricardo, Marius and Diego flew up for the screening. Lenny was impressed with the stereoscopic effects in the Brijes 3D prologue and Ricardo, Marius and Diego returned to Mexico City with the DCP in two separate external hard drives ready to project at Cinepolis.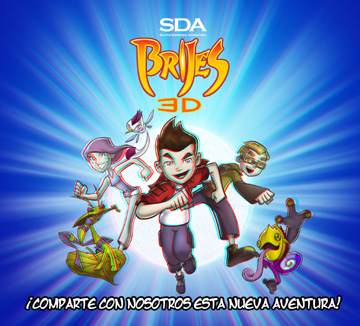 The 3D press screening of Brijes 3D came off without a hitch. Before projection took place, short statements were read by Alfredo Harp, President of Santo Domingo Films, Ricardo Gonzales, Benito Fernandez, Charbel Harp and myself. The stereo effects in Brijes 3D looked exciting on the 50-foot wide silver screen and were very well received by the press. A Q&A session followed the 3D screening as questions from the press were fielded by the panelists. On the next day, coverage of the event appeared in La Reforma, the largest newspaper in Mexico.
On September 19, 2010 Brijes 3D opened in 100 theaters in Mexico, with 50 of them screening the 3D version. Box office receipts were highly gratifying to SDA and Televisa who distributed Brijes 3D theatrically. It's exciting to have worked on the first stereoscopic animated feature film in the history of Mexican Cinema.

---

Back to 3-D ZONE