3-D Comics Skullduggery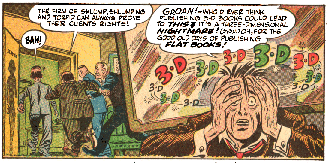 ---Behind the scenes with Leonard Maurer during the 1950s 3-D comics crash
by Ray Zone
When "Three Dimension Comics," the "World's First" 3-D Comic Book sold a million copies in 1953, the world took notice. As the inventor of 3-D comics, Leonard Maurer, in partnership with his brother Norman and cartoonist Joe Kubert, formed the American Sterographic Corporation to license the 3-D Illustereo process to comics publishers. As the publisher of "Three Dimension Comics," and under license for 3-D Illustereo, Archer St. John converted his whole line of comic books to 3-D.
"While all this was going on," recounts Leonard Maurer, "I did what I could to prepare the way for licensing, and had already approached several publishers. But, all my efforts soon went up in smoke when we were forced into a cockamamie patent infringement lawsuit with Bill Gaines."
Gaines was the publisher of the Entertaining Comics (EC) line that included MAD Comics as well as many controversial horror and crime comic books. He was also a 3-D photography enthusiast who owned a StereoRealist camera and when the St. John 3-D comics came out began immediately to make plans for 3 issues of EC 3-D Comics.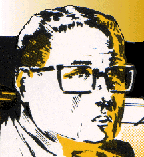 EC Comics' publisher
William Gaines
(art by Chuck Roblin)
With a patent search, Gaines discovered an October 13, 1936 Patent (no. 2,057,051) by Freeman H. Owens which was a Method of Drawing and Photographing Stereoscopic Pictures in Relief and described reproduction of a newspaper cartoon drawing as a "stereoscopic relief picture" with separate parts of the cartoon "copied on separate transparent sheets" and "opaque on the back to correspond with the outline in each case." The sheets, "advantageously celluloid," were recombined and copied "to make the pair of stereoscopic views" by shifting them laterally.
"A month before its expiration," notes Maurer, "Gaines bought the Freeman Owens patent -- which never turned up in our patent search -- from the dying inventor for a few hundred bucks." Then Gaines initiated suit for patent infringement on all the publishers of 3-D comics including St. John. "That suit," says Maurer, was "based on surreptitious individual tape recordings of meetings with Joe and Norman, where Gaines accused me of stealing the Owens patent out of the patent office (big joke). It triggered the resignation of Harvey Kurtzman and Bill Elder, who had gotten confidential disclosures of the entire process from me and felt betrayed by Gaines when phony accusations came out in court.

Freeman Owens Patent of 1936 for Stereoscopic Cartoons
"The famous Judge Liebowitz threw the case out with the comment that the Gaines deposition read like a 'fantasy story out of Mad Comics.' But, it served its purpose, and ruined all my chances to license the 3-D Illustereo process to anyone other than St. John. Harvey's resignation opened the way for Al Feldstein to take over Mad. Al (my closest High School of Music and Art buddy) wasn't involved in the disclosure, but he warned me about Gaines' secret tape recorders before my meetings with him. All these guys were also old high school classmates of mine, as were many of the Mad Comics' artists, most of whom had much more integrity than their boss, I guess.
"Since that lawsuit ended all possibility of licensing in the comic book business, I was already preparing for 3-D entry into the advertising market when St. John offered me a decent cash buyout and gave me the 3-D studio with all its equipment, as well as sole ownership of the 3-D Illustereo trade name for helping him unload some of his surplus acetate and glasses to avoid bankruptcy. He made a separate deal with Joe and Norm since they were under contract as book editors and artists. Eventually, he had to go bankrupt anyway, and died shortly thereafter.
"The 3-D advertising business was pretty good for a couple of years. We had a hand in the production of the Tarzan 3-D card series published by Topps Bubble Gum, along with a number of interesting 3-D posters and marketing brochures." During this period, Maurer also worked with the American Colortype company to develope a 4-color anaglyph process called 'Stereochrome' which was "originally tested with color painted artwork on cels, using the same level-separating technique as the 3-D Illustereo process," says Maurer.
"As an advertising application, we were planning to also test the Stereochrome process photographically using a dual mirror, single lens camera auto convergence system I designed so that the center of interest at any depth level would be in full color sharp focus and relatively fringe-free when printed as a 4-color anaglyph. Unfortunately, American Colortype went out of business. 3-D advertising interest began to switch over to lenticular systems and I gradually abandoned my 3-D cartoon anaglyph work to continue on as a conventional graphic design studio."
---
first published in 3D News the Newsletter of the Stereo Club of Southern California, June 2001

Back to 3-D ZONE