Three Dimensions of The Dark Country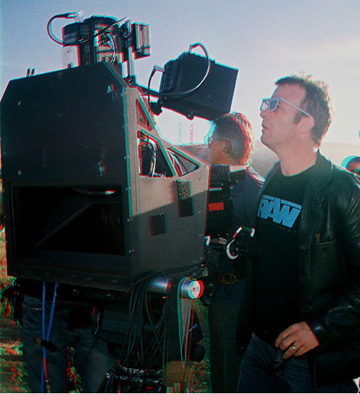 Tom Jane previews 3D before shooting with two Red
cameras on a large Paradise FX beam splitter.
by Ray Zone
When I first met Thomas Jane a few years ago at a meeting of the Stereo Club of Southern California (SCSC), he told me how much my 3D comics had meant to him as a teenager and he said he wanted to work with me. Boy, did he ever mean it! That came to pass with the 2007 3D issue of Bad Planet #3, which Tom published, and then 3D production of the feature film The Dark Country which Tom was starring in and directed.
In November and part of December 2007 I was on location in New Mexico with The Dark Country as 3D Supervisor. To prepare for 3D filming Tom and I spent two weeks hand-coloring the storyboards of the film creating a "Color Depth Graph" for every shot. Elements that were colored Red and Orange came off the screen into audience space with Yellow at screen plane and Green, Blue and Purple going back, successively, into deep space behind the screen. This 3D Bible put Director of Photography Geoff Boyle, Camera Operator Howard Smith, and 3D Technician Max Penner on the same page for screen composition in depth.
DP Geoff Boyle (right) preps a complex handheld shot with Camera Operator Howard Smith (middle).
3D photography was rugged in The Dark Country with cast and crew working late night hours bundled up to stay warm in near-freezing temperatures out in the vast desert spaces. Sometimes the ambiance was ideal for the scene as when the wind was blowing, kicking up dust, which made beautiful diffuse lighting effects that were perfect for the story. It was a highly dramatic moment in the narrative and, despite the inclement weather, Lauren German, our heroine, and Tom acted up a storm with amazing precision.
Lauren German studies her lines on location.
The technology for 3D photography of The Dark Country was truly innovative with two Silicon Imaging (SI) HD heads capturing at 2K resolution. The two HD heads are tiny compared to the film cameras used previously to shoot 3D movies. This allows for highly mobile and fluid camera movement during photography. The twin HD units were built by Max Penner, Tim Thomas and the 3D wizards at Paradise FX in California. Howard Smith provided input for the camera assembly so that it would work with his mobile "AR" rig, a revolutionary new form of steadicam in which the cameras maintain the horizon. Another stereoscopic innovation is the use of dynamic variable interaxial in which the distance between the two cameras can be actively changed while cameras are rolling. The stereoscopic motion picture photography in The Dark Country was unprecedented, particularly with the camera movements that powerfully reinforced the compelling narrative. It was a real breakthrough for camera movement and mobility in 3D movies.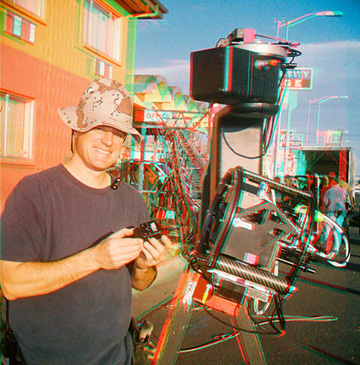 1st AC Dave Taylor checks dynamic variable interocular on dual SI rig.
SCSC member John Rupkalvis was on location and the soundstage for 3D shooting of behind-the-scenes (BTS) and interview footage. This was another "first" in 3D movies. Until then, there had never been BTS footage shot in 3D. This would create new promotional and advertising opportunities for The Dark Country and be a great added-value feature when released on DVD and Blu-Ray. To shoot the BTS footage in 3D, John used a compact twin HD rig with two cameras mounted side-by-side on a bar.
It was also great fun working with Tim Bradstreet who handled Production Design on The Dark Country and did a great job. First, I converted Tim's art to 3D for Bad Planet #3 and then I got to hang with him and Tom on the set of The Dark Country. Speaking as a 3D man, I can tell you that it doesn't get any better than this!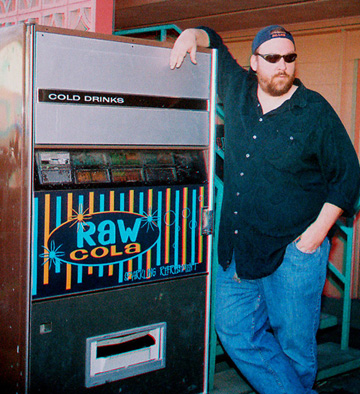 Tim Bradstreet with the "Raw Cola" soft drink machine that he designed for an opening scene of the film.
Producer Patrick Aiello offers a custom can of "Raw Cola" to the viewer.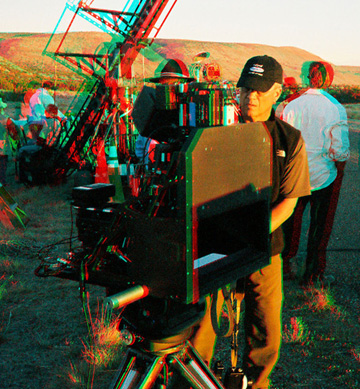 3D technician Max Penner with the large Paracam beamsplitter and two 4K Red cameras on location.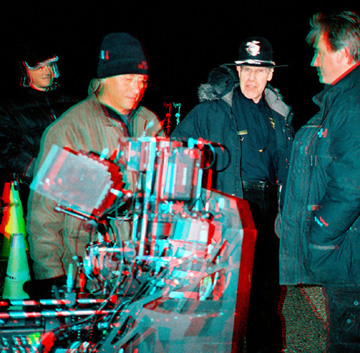 Ron Perlman checks out the Paracam as Max Penner and Howard Smith explain.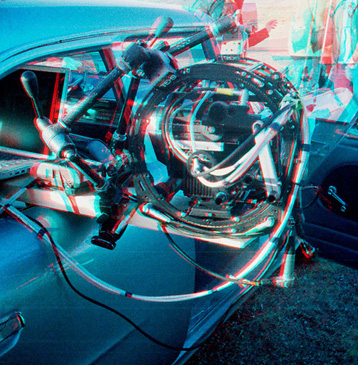 Dual SI cams inside the AR rig mounted to the side of a Dodge Seneca automobile.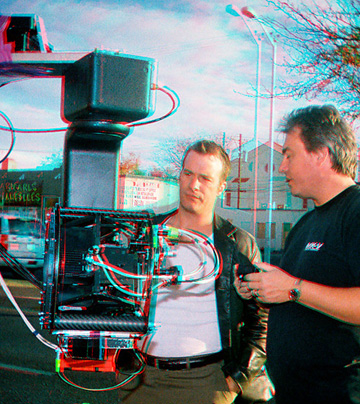 Tom Jane checks out the AR rig as operator Howard Smith tests the remote control.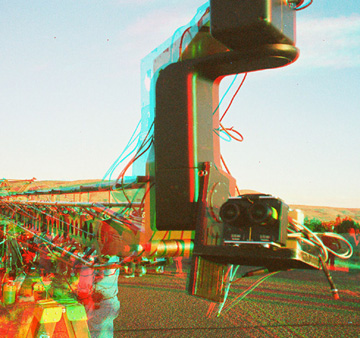 Dual SI cams are in parallel configuration mounted on the end of a crane arm on location.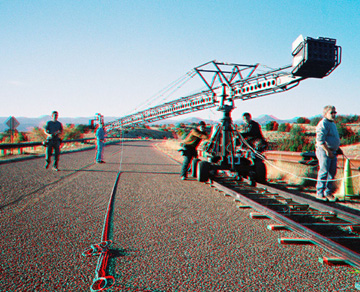 Setting up a complex tracking shot on a rail on location in the New Mexico desert as the sun is setting.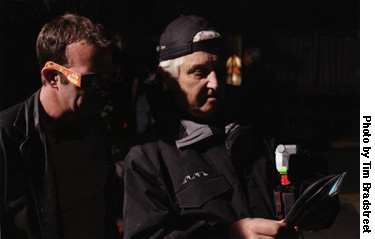 Ray Zone shows Dark Country anaglyph production photos to Tom Jane during a break in filming.
---

Back to 3-D ZONE